Il producer e director di Final Fantasy XIV, Naoki Yoshida, ha recentemente rivelato i dettagli di Revenge of the Horde (questo il titolo della patch 3.3) , compresi nuovi dungeon e una nuova missione che coinvolge i Moogles e i dragoni.
Il dungeon Aquapolis ha un' entrata che appare in modo casuale scoprendo le mappe dragonskin, possono partecipare fino a otto giocatori come party.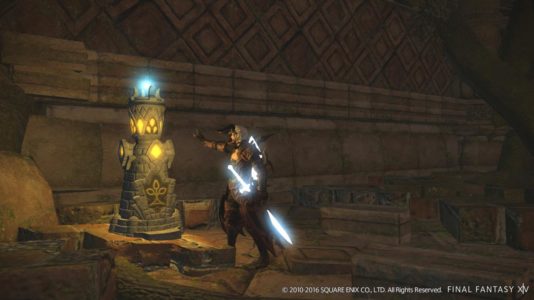 Il Deep Dungeon – Palace of the Dead è un nuovo tipo di contenuto, al debutto nel mondo di Final Fantasy XIV. È dotato di un sistema di progressione autonomo a partire dal livello 1. Questo dungeon può essere esplorato in solitaria o in un gruppo composto da massimo altri quattro componenti. Saranno compresi anche alcuni boss "speciali", sui quali non ci sono ancora nuove informazioni.
Yoshida ha fatto riferimento anche ad aggiunte abitative, una nuova mappa per il PvP, Frontlines noto come Fields of Glory (Shatter), nuove missioni secondarie ed il capitolo finale della guerra di Dragonssong. Sarà inoltre possibile impostare diversi requisiti grazie all'aggiunta della funzione Raid Finder.
Nel corso della presentazione è stata annunciata inoltre una collaborazione tra Final Fantasy XIV e Yo-Kai Watch di Level-5. I giocatori saranno infatti in grado di collezionare armi a tema Yo-Kai e molto altro ancora (come questa nuova mount, per esempio).
Qui alcune immagini in anteprima delle armi a tema: