Tanti appassionati di jrpg vorrebbero vedere Final Fantasy XV per PC, insieme ai rilasci ufficiali per PlayStation 4 e Xbox One. Alcuni indizi trovati nel codice JavaScript del sito ufficiale lasciano presagire buone speranze.
L'utente KupoNut di NeoGAF ha scovato il codice postandolo nel forum del noto portale, questo contenuto però è stato già rimosso da Square-Enix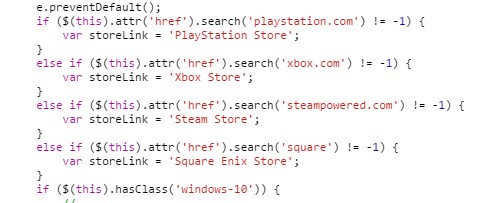 Il codice deriva dalla pagina americana dell'evento uncovered (trovate tutte le informazioni qui) che nasconde tra le sue righe la voce Steam Store e Windows 10 in mezzo a quelle già note PlayStation Store, Xbox Store e Square Enix Store. Non ci sono dubbi sul fatto che se fosse confermato significherebbe l'uscita di Final Fantasy XV per PC.

Altre parti del codice lasciano intendere la presenza di contenuti attualmente nascosti ma che verranno aggiunti in seguito (trailer, faq, about ecc.). In ogni caso va notato che questo tipo di codice è lo stesso utilizzato nella pagina di Rise of the Tomb Raider (qui la nostra recensione) e potrebbe dunque trattarsi di un semplice codice utilizzato da Square-Enix anche per questo mini sito, non confermando quindi la versione PC.
Non ci resta che attendere l'evento Uncovered Final Fantasy XV per scoprire se ci sarà una versione del titolo Square-Enix anche per PC.