Dopo aver mostrato un nuovo trailer introduttivo al Jump Festa, Square Enix ha per la primissima volta mostrato il gioco in azione in un video in streaming dove possiamo osservare il gameplay di World of Final Fantasy.
Nel video possiamo vedere alcuni combattimenti nella "Forest of Lights", e intravedere diversi elementi del battle-system.
Potremo catturare i mostri sconfitti dentro le Gemme, e usare le loro abilità in battaglia e per superare degli ostacoli nei dungeon.
Potremo switchare tra la versione "chibi" dei personaggi e la loro versione "normale" (comunque deformed à la Kingdom Hearts). Nella prima modalità sarà possibile combattere su specifici mount (vediamo una Magitek Armor e un Behemoth) che hanno a loro volta degli attacchi speciali, più potenti del normale. Nella seconda potremo tenere dei mostri sopra di noi per aiutarci in battaglia.
Sembra che sia previsto anche lo sfruttamento delle debolezze elementali degli avversari, cosa che vale anche per il nostro party.
Verso la fine del video vediamo i protagonisti scontrarsi contro Yuna di Final Fantasy X e il suo Valefor, contri i quali evocheranno Squall di Final Fantasy VIII per sconfiggerla.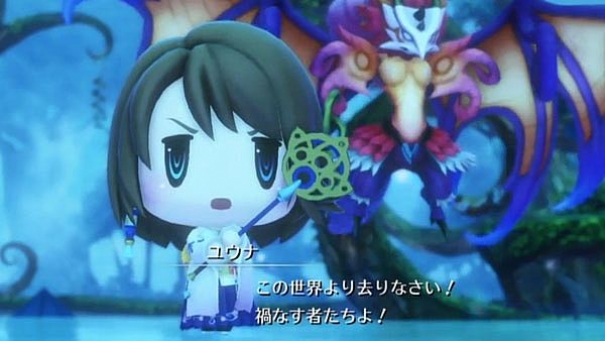 Gli sviluppatori hanno precisato che i tempi di caricamento delle battaglie saranno sensibilmente inferiori nella versione finale del gioco.
World of Final Fantasy è attualmente in sviluppo per PlayStation 4 e PlayStation Vita, ed è previsto per il 2016.